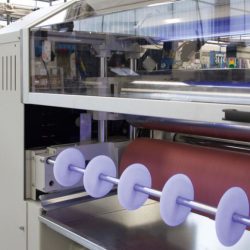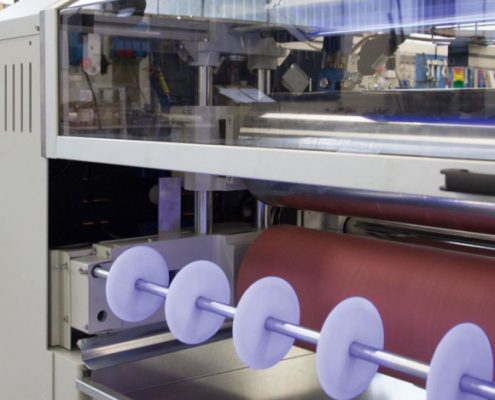 INTRODUCTION
The Hybond team possess a wealth of practical experience and expertise regarding the industrial bonding method of roll coating. We regularly work with customers to either aid them in making the change from labour intensive manual bonding alternatives, or to maintain and enhance roll coating systems they have in operation.
Explore here one of Hybond's most popular roll coating methods; a hot melt PUR roll coating system.
Contact Hybond today if we can be of assistance with this, or any of your company's bonding processes.
All application systems demonstrated below can be provided by Hybond's dedicated Machine Systems Division.
WHAT IS ROLL COATING?
Quite simply put, roll coating machinery allows the operator to apply hot melt or cold glue adhesives to a variety of flat sheet substrates both evenly and efficiently via a series of automated rollers.
This post focuses on the particular benefits of a hot melt PUR roll coating system.
WHO MIGHT CARRY OUT THIS BONDING PROCESS?
This is a popular bonding method used within many industries such as:
MANUAL APPLICATION METHODS – WHY MAKE THE CHANGE?
Here are two popular manual adhesive application techniques for those carrying out forms of flat lamination:

DISADVANTAGES OF MANUAL APPLICATION
Time consuming
Labour intensive
Large adhesive volumes required
Requiring 2-side coverage (contact adhesive)
Requiring lengthy static press time
THE MANY BENEFITS OF A HOT MELT PUR ADHESIVE SYSTEM
At Hybond, we favour a hot melt PUR roll coating system due to the many benefits provided by both the PUR adhesive, and its application system. We explore the advantages of both below.
PUR FOR FLAT LAMINATION
So what is a PUR hot melt adhesive and how does it differ from standard hot melts?
Polyurethane reactive hot melts are know as reactive adhesives because their curing process is activated by moisture. Moisture present in the air and/or the bonded substrate creates a chemical reaction which produces a fast, non-toxic, incredibly strong bond with many advantages such as:
Continuous production process
No static press time required
Ultimate mechanical bonding strength
Excellent water resistance
Warp-free bond line
High heat resistance
Outstanding cold resistance
Excellent creep resistance

PUR MELTING EQUIPMENT
The main feature in processing polyurethane hot melts efficiently is the use of correctly designed application equipment. The equipment differs from typical hot melt applicators due to the moisture sensitive behaviour of polyurethane hot melts.
Take a look here at an example of a typical PUR application line which Hybond's Machine Systems Division would provide to a manufacturer carrying out flat lamination. This line features a hot melt roll coater device, and the operator benefits from: Versatile set-up, Easy maintenance, Simplicity of use, No static press time.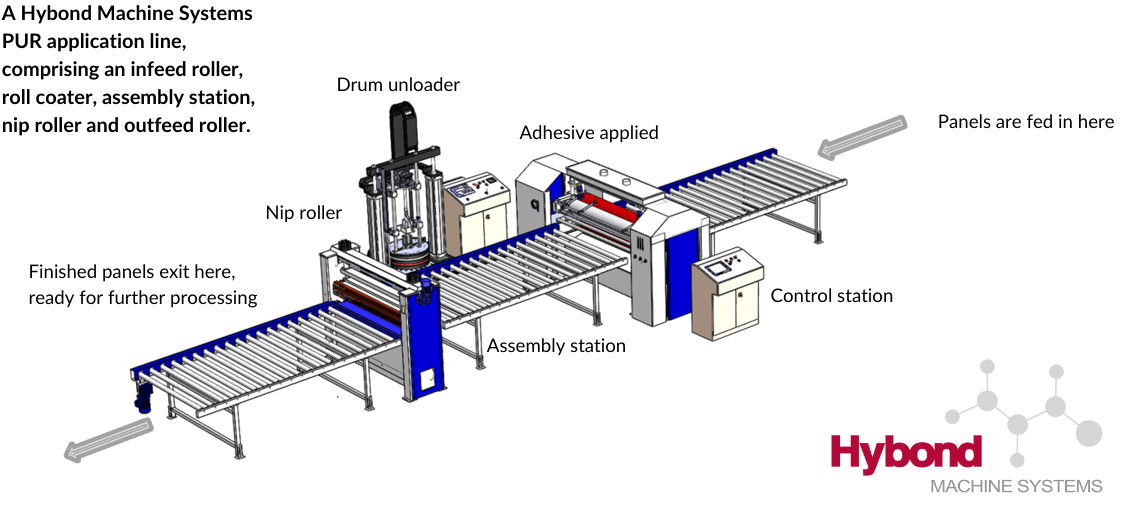 Hybond Machine Systems PUR Application Line
FUTURE-PROOF, MODULAR SYSTEMS
The beauty of a Hybond Machine System's installation such as the example given above, is that it is entirely modular; bespoke to the customer's needs. The line can be enlarged or reduced dependent on requirements, and central to it all is the highly intelligent PLC control station. This clever unit is fully equipped to control a wide variety of popular components and functions, such as robotics, saws, automated in-feeds, out-feeds / automated stacking and much more. The ability to grow application lines with ease to support growing production demands, means that Hybond solutions are truly future-proof solutions.

HYBOND AND YOUR EXISTING LINE
If your manufacturing operation is already carrying out the processes described above or similar, Hybond have a great deal to offer via our highly skilled technical team, and the resources within the comprehensively equipped Hybond Laboratory. Hybond can assist in: streamlining, troubleshooting, enhancing, servicing and more. Our technical team are available for site visits and equipment audits, but can also carry out detailed adhesive testing in our dedicated technical showroom facility resulting in zero disruption to your production location. Take a look below at just some of the solutions and services we provide those carrying out hot melt PUR roll coating:
From handy solutions such as the retro-fitting of infrared devices to the in-feed and out-feeds of roll coaters, eliminating the complications that arise from cold ambient temperatures, to detailed analysis in the Hybond Laboratory; the Hybond team work hand in hand with manufacturers to ensure optimum quality, repeatability, and efficiency in their flat laminating processes.
If you would like to further explore the advantages of the above systems and services…
Contact Hybond today to speak to a dedicated member of our technical team.
https://www.hybond.org.uk/wp-content/uploads/2021/11/Roller-Coater-Bonding-Machinery.580.OPT_-e1636544323769.jpg
250
250
admin@hybond
https://www.hybond.org.uk/wp-content/uploads/2020/11/technology-logo.png
admin@hybond
2021-11-30 12:27:45
2021-12-07 11:31:12
Hot Melt PUR Roll Coating System for Flat Lamination