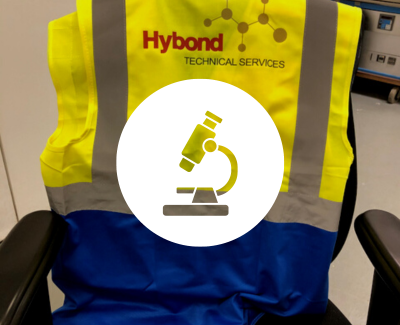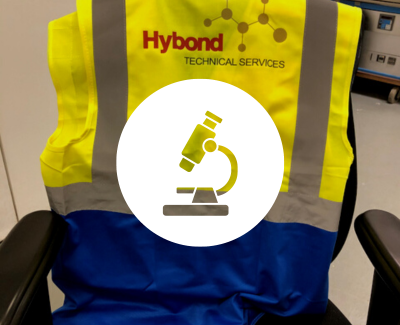 Welcome to the third instalment of Hybond's "Look in our Lab" series, where we bring you regular posts on the materials & adhesive bonds being put through their paces by our technical team within Hybond's laboratory.
This time we hope you allow us a little poetic licence as we take a closer look at Hybond's auditing service, which initially takes place at our customer's production sites, the audit process is then completed within our laboratory with the testing of obtained samples, detailed bond analysis, technical reporting and much more.
WHAT IS AN AUDIT IN MANUFACTURING?
A trusty Google search provides the following definition:
"An inspection of a manufacturing process to identify opportunities for improvement."
It's a fantastic way to determine whether your current manufacturing processes are running optimally, and of course the focus of a Hybond audit is on our customer's adhesive-based lines. Our highly knowledgeable and experienced technical team will visit your site on a pre-agreed schedule and carry out all necessary system checks to ensure the smooth running of your adhesive-based systems.
WHY BOOK A HYBOND AUDIT?
A regular schedule of routine audits aid our customers in facilitating:
Consistent high quality out-put
Increased production out-put
Cost reduction through fewer breakdowns
Cost reduction through improved efficiency
The timely identification & resolution of any system issues
Recommendations & implementation of systems upgrades
Identification of the very best adhesive products for you
Our auditing service is available to customers across a variety of industries, and the checks carried out are tailored to each operation whether that be a packaging producer with hot melt adhesive tanks to monitor and maintain, or a woodworking firm with edge banders, presses and more. Audit frequency is agreed with our customers, so a large furniture producer may decide a quarterly audit is required to ensure the smooth running of their systems, and for smaller operations an annual audit may suffice.
WHAT TO EXPECT
Our team understand the importance of keeping disruption to production to a minimum during an audit visit, often machine operators can continue running as normal whilst we work around them.
Our technical team will carry out an inspection of each part of an adhesive-based production line, using adhesives the team have identified for the customer. Using the example of a furniture manufacturer, this may include a number of edge banders; inspecting application and pressure rollers, and obtaining bonded samples for laboratory testing. It may also include 3D pressing lines, and we take a more in-depth look at this process below!
A CLOSER LOOK – HYBOND 3D PRESSING AUDITS
An in-demand service at Hybond is our 3D pressing audit. This lamination technique, also known as vinyl or membrane pressing, is popular with those producing decorative furniture fronts within kitchen, bedroom and bathroom production. Raw MDF panels are spray-coated with adhesive, dried, and passed through a press where they are wrapped in decorative vinyl foil through exposure to temperature and pressure; the results provide a variety of finishes.
Carried out in real-time, Hybond use an intelligent panel and specialist software to analyse critical points of the pressing process as they occur within a pressing system. The panel is fitted with a series of sensors and travels through the press alongside raw panels for processing. The panel communicates live via Bluetooth with our analysis software, providing instant detailed information about the temperature and pressure the bonded panels are being subjected to. Customers benefit from a more intelligent way to maintain pressing systems with Hybond!
Here's what Hybond Director Ross Dalrymple has to say on the service:
"It's incredibly important to achieve precise temperature levels during the 3D pressing process to avoid issues such as bubbling, tearing, and delamination. Disposable strips for testing temperature can be tiresome to use, often giving inaccurate readings and restricting users to limited placement points. Our intelligent sensor panel travels through press systems taking readings throughout, for example a vertical reading can be obtained measuring the temperature of the foil directly above the panel – the temperature at this position will dictate how well the heat transfers to bond the foil securely to the exterior panel edge. When we consider end usage of such panels, it is essential there is no entry point for moisture. Information obtained during our audit process has proven an essential tool for customers."
BACK IN THE LAB!
So in the spirit of our 'Look in our Lab' series, let's take a closer look at what takes place within the walls of Hybond's dedicated laboratory once our team return from a customer's site and head into the lab. Our tech team will return with a variety of bonded samples ready to undertake further testing. Returning to the example of a furniture manufacturer, our team will test samples created by each 3D press, edge bander, profile wrapper etc. These samples can undergo climatic testing, microscopic bond line analysis, peel, sheer and joint-break testing and much more as required. Customers are provided with a detailed report of all findings, recommendations based on the findings can be discussed, planned and implemented according to customer requirements.
WORK WITH US!
Do you have an adhesive challenge that our technical team can assist you with?
Would you benefit from a regular programme of audits?
Here's just a few of the services the Hybond Laboratory can provide:
Viscosity and solids analysis
Peel, shear, and joint-break testing
Microscope analysis of bond line integrity
Accelerated aging testing
Surface energy analysis
Climate chamber testing
Testing to industry standards such as those laid out by FIRA, IMO and more.
CONTACT Hybond today and a member of our technical team will assist you with your enquiry.
https://www.hybond.org.uk/wp-content/uploads/2023/05/Blog-Image-Hybond-Industrial-Adhesives-3.png
325
400
admin@hybond
https://www.hybond.org.uk/wp-content/uploads/2020/11/technology-logo.png
admin@hybond
2023-05-30 15:59:26
2023-05-30 15:59:26
Look in our Lab – Vol.3. Discover Hybond's auditing provision & the many benefits it provides.