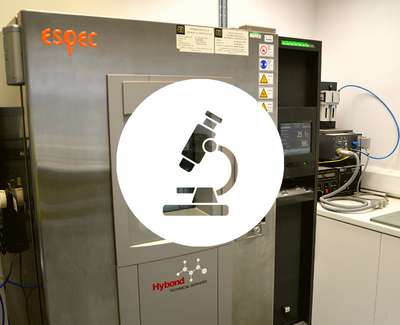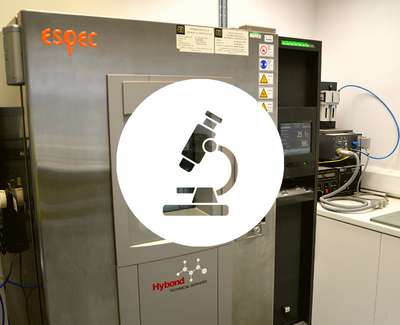 Welcome to a new Hybond blog series entitled: "Look in our Lab" where we'll be bringing you regular posts on the materials & adhesive bonds being put through their paces by our tech team within Hybond's dedicated laboratory.
We recently spoke with Hybond's Technical Manager Dr. Kaye who talked us through the latest lab tests being undertaken by Hybond. Testing was underway on a selection of thermal insulation samples intended for use within the construction industry. Hybond will determine the perfect adhesive choice for end-user installation, and additionally at our customer's request we will also compare the insulative capabilities of their samples against those of leading competitors using our laboratory's climatic testing facilities. Read on to find out more…


THE TESTS
Our team began by testing the insulative abilities of both customer & competitor samples. Climate testing would identify the most insulating materials, and adhesive options could then be explored. A hollow cube structure was created, of which the upper lid is made of the insulation samples and swapped with each test cycle until approximately 7 different materials are trialled. A temperature data logger is inserted into the hollow void within the cube, which is then placed into Hybond's Espec climate chamber. The climate chamber cycle gradually increases internal temperature from 10ºC to 50ºC over the course of 5 hours. Hybond technicians monitor any changes occurring within temperature readings from inside the cube.
THE OUTCOME
The materials which demonstrated the most effective insulative ability were those whereby a minimal rise in temperature was observed within the cube, and at the slowest rate of increase as the temperature rose in the chamber. Two customer samples would yield particularly good results, and Hybond's technical team would now explore adhesive choices for end-user installation.
ADHESIVE CHOICE
With two customer samples identified as great insulators, our tech team set about the task of identifying a perfect adhesive pairing for each. Standard plasterboard was used to represent a typical substrate to which the products would be bonded, a choice of adhesive applied, and the insulation samples laid. Bonded samples were left to cure for a minimum of 24 hours, after which manual peel testing and bond line examination was carried out.
SAMPLE 1 – Adhesive Recommendation:
Hybond technicians identified a Hybond MS polymer gun grade adhesive as a great choice for the installation of this insulation material. This ready to use adhesive requires no mixing, is extremely easy to apply and can accommodate vertical application. With high viscosity and a smooth consistency, the gun grade adhesive provides rapid grab, and a positive experience for the user being solvent-free and easily cleaned from hands and surfaces.
SAMPLE 2 – Adhesive Recommendation:
Hybond technicians identified a Hybond acrylic adhesive as a great choice for the installation of this insulation material. This solvent-free acrylic emulsion-based adhesive is easy to spread, has a long open time, provides early tack and minimum slip, quickly building to a strong permanent bond. It is non-staining and has excellent resistance to plasticiser migration.
NEXT STEPS
In addition to the above outcomes, Dr Kaye explains that one of the insulation samples would prove to have an extremely low surface energy which could present a challenge to the installer. A low surface energy is a known barrier to those wishing to achieve a successful adhesive bond, and must be overcome with the correct: surface treatment, adhesive choice and application expertise. Hybond hold a wealth of experience within surface energy treatment approaches, including the use of primers, plasma treatment and specialist adhesives. At the time of writing Dr. Kaye's team were in the process of determining the very best approach for the sample.
WORK WITH US!
Do you have an adhesive challenge that our technical team can assist you with? Here's just a few of the services the Hybond Laboratory can provide:
Viscosity and solids analysis
Peel, shear, and joint-break testing
Microscope analysis of bond line integrity
Accelerated aging testing
Surface energy analysis
Climate chamber testing
Testing to industry standards such as those laid out by FIRA, IMO and more.
CONTACT Hybond today and a member of our technical team will assist you with your enquiry.
https://www.hybond.org.uk/wp-content/uploads/2023/03/Espec-Chamber.png
325
400
admin@hybond
https://www.hybond.org.uk/wp-content/uploads/2020/11/technology-logo.png
admin@hybond
2023-03-20 13:48:09
2023-05-23 11:14:12
Look in our Lab – Vol.1. Explore the latest projects taking place in our laboratory.